FAIL-PROOF YOUR BIGGEST GOALS!
Welcome to the Guaranteed Goals Community, the surprisingly fun system and support you need to win every goal.
Encouragement + Accountability
Easy + Consistent Progress
What if you could guarantee the success of ALL your goals?
Z

The book you want to write? Guaranteed.

Z

The weight you want to lose? Guaranteed

Z

The language you want to learn? Guaranteed.

Z

The side hustle you want to start? Guaranteed.

Z

The business you want to scale? Guaranteed.

Z

The podcast you want to launch? Guaranteed.
It's all possible with courage, connection, and collaboration, and that's exactly what you'll find in the Guaranteed Goals Community. 
Join now and crush every single one of your goals!
How does the Guaranteed Goals Community work?
Learn the fun + simple Guaranteed Goals system
Lean on the Community for encouragement and accountability
Do the work while making easy + consistent progress
Stack the odds in your favor all year long… 
There are a lot of reasons why goals fail, but they all boil down to these 3 things…
→ An abundance of fear.
→ A disconnection from desire.
→ A lack of community.
Imposter syndrome? Perfectionism? Procrastination? Those are fears. 
Boredom? Lack of motivation? Discouragement? That's disconnection from desire. 
Missing accountability? Inconsistent effort? Lack of follow through? That happens when you don't have community. 
All of that ends TODAY. 
I designed the Guaranteed Goals Community to make bravery your default mode, keep you dialed in to what motivates you, and to make accountability accessible so that progress feels easy and consistent. 
No goal is off-limits. No goal is too big. 
Whatever you're dreaming about, let's finish it together.
Here's what you'll get when you become a member of the Guaranteed Goals Community!
Z

Full year access to the Acuff Library

Z

Full year access to the GGC community

Z

4 LIVE Digital Events

Z

12 months of Check-ins and Accountability

Z

New Dream, Plan, Do, Review System

Z

Time Tracker Tool + Exclusive Badges
LIMITED TIME OFFER: GET ACCESS TO OVER $12,086 OF VALUE FOR ONLY $897/YEAR (REG. $997)
Guaranteed Goals Community
Save $100 off now thru 12/31/23!
Full year access to the Acuff Library

Full year access to the GGC community

Monthly Group Coaching

4 LIVE Digital Events

12 months of Check-ins and Accountability

NEW Dream, Plan, Do, Review System

Time Tracker Tool + Exclusive Badges
"I'm a work-from-home business owner. I've seen phenomenal progress in setting my goals, meeting my goals, and enjoying an increased sense of control and clarity in my work week since going through the Stack the Deck course."
"Jon helped me see concrete reasons I sometimes struggle to make progress, sharing his own stories and fears. During the lessons, I laughed while I learned. Each time he taught, he provided specific next steps."
"The Full Potential Course gave me the tools and resources to reach my goals when I get stuck and how I can use consistency to gain momentum and rise to my full potential!"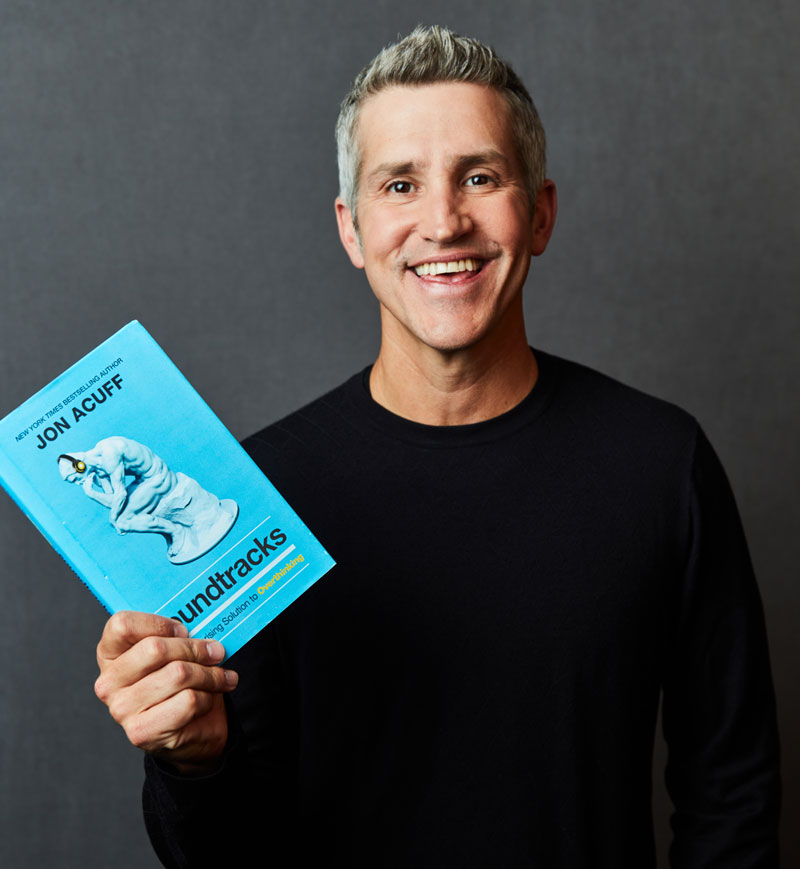 Meet Jon
In the third grade, I knew I wanted to be a writer. I didn't admit that to myself until I was 34. Why did I wait 25 years? Why delay a quarter century?
Why do any of us put off the things we love the most?
Life got busy.
Bills got chatty.
And fear crowded out hope.
But deep down, I always knew I was a writer. 
Just like you know you're an entrepreneur, an author, a leader, a CEO, a photographer, or a million other things. 
I love being a writer. I love helping other people do more of what they love too. It's an awesome feeling to wake up every morning and do what I love. 
I want you to experience that too. 
Don't wait to pursue your dream. 
Don't put off what you love for another day. 
Let's make it happen together. 
 – Jon
Jon Acuff is the New York Times bestselling author of eight books, including his most recent, Soundtracks, The Surprising Solution To Overthinking.
Published in more than twenty languages, his work is both critically acclaimed and adored by readers. When he's not writing, Acuff can be found on a stage, as one of INC's Top 100 Leadership Speakers. He's spoken to hundreds of thousands of people at conferences, colleges and companies around the world including FedEx, Nissan, Microsoft, Lockheed Martin, Chick-fil-A, Nokia and Comedy Central. Known for his insights wrapped in humor, Acuff shared the stage with an American Icon when he opened up for Dolly Parton at the Ryman Auditorium.
For 25 years he's also helped some of the biggest brands tell their story, including The Home Depot, Bose, and Staples. His fresh perspective on life has given him the opportunity to write for Reader's Digest, Fast Company, The Harvard Business Review and Time Magazine.
He lives outside of Nashville, TN with his wife Jenny and two teenage daughters.
Frequently Asked Questions
Will there be a VIP Backstage Access?
Great question! VIP Backstage Access is built into this membership.
Can I invite my friends?
YES! Encourage your friends to purchase the course and join you in crushing your goals together. Here's a quick message:
Hey, I've joined Jon Acuff's new Guaranteed Goals Community. This would be so fun to do together! Register at https://jonacuff.com/goals.
What are the training dates?
Live training dates and times may vary. Jon will be very active inside the community! Dates will be posted inside the GGC resources!
How is this different from past courses?
The GGC is the first time that Jon has offered a comprehensive goal system and community.
Jon's Guaranteed Goals system (3 courses)
+ new resources will help you accomplish any goal with the best goal community on the internet!
When will my membership renew?
Your membership will renew 12 months after you become a member.