Take the GUARANTEED GOALS challenge
The foolproof system to crushing all your goals in 2023!
Join the FREE 3-Day Guaranteed Goals Challenge with Jon Acuff.
The Guaranteed Goals Challenge is my BRAND NEW challenge happening LIVE January 10-12.
You'll get 3 days of training, prizes, and more from me, New York Times Bestselling author Jon Acuff!
There are 4 simple words that will make every goal you've ever had possible. They'll change your entire year, probably your entire life too, but let's not get ahead of ourselves. If you're tired of starting goals in January only to have gotten off track after a few days or weeks, this is for you. 
This surprisingly fun and extremely simple system is the last you'll ever need to accomplish every goal that's ever felt out of reach. 
Today is the perfect day to
chase a dream

.

"Jon's Challenges, Courses, and VIP Access earned a Gold Medal from me."
Beverly L, Challenge Member
"If you need help reaching a goal, Jon Acuff is the man to get you there."
Jennifer O, Challenge Member
"Jon and the community helped me start dreaming and planning again."
Cindy D, Challenge Member
According to the University of Scranton, 92% of New Year's Resolutions fail.
Those odds are not in your favor, but they aren't impossible to beat. 
In fact, with the right tools, you can flip the odds upside down so that your likelihood of success is far greater than the likelihood of failure.
How is that possible? I'm so glad you asked. 
It's possible with 4 simple words. 
You know these 4 words. You've heard them all. You've even done some of the actions associated with each, so why haven't you already accomplished your goals?
Because order matters. 
When you do these four words in the right order, you can accomplish your biggest, most important goals. 
These four words took me from publishing zero books to publishing nine.
These four words took me from running zero miles to running thousands. 
These four words took me from my first salary at an ad agency to making 50x that. (You read that right; that wasn't a typo.)
No matter what you want to do in 2023 – write a book, start a podcast, lose weight, start a business, scale a business, literally anything – you can accomplish it with these 4 words.
I guarantee it.
Day 1: Discover the four words that will help you accomplish any goal.

This is rocket fuel for your goal.
Day 2: Dream the smart way & ditch perfectionism
Craft the plan that will remove the barriers from action.
Day 3: Stop procrastinating & check your work
Do the work, and improve your processes as you go.
In the challenge, you'll also receive…
Z

Access to a private Facebook community with more than 19,000 people cheering you on

Z

Video replays of all the lessons

Z

The chance to win some DOPE prizes
Join the Guaranteed Goals Challenge for FREE!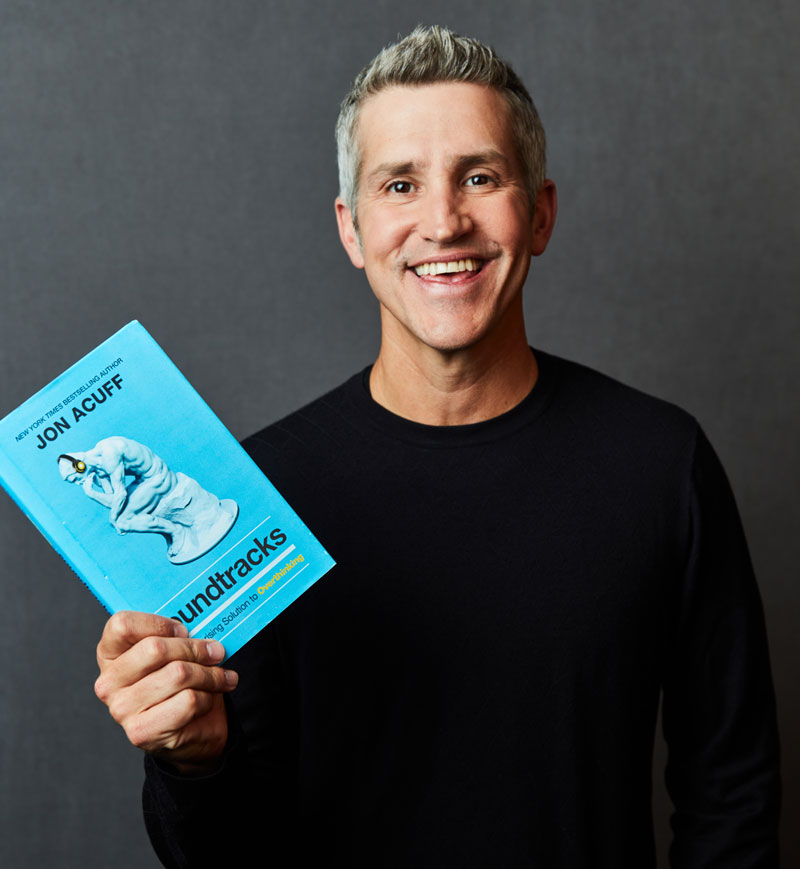 Meet Jon
In the third grade, I knew I wanted to be a writer. I didn't admit that to myself until I was 34. Why did I wait 25 years? Why delay a quarter century?
Why do any of us put off the things we love the most?
Life got busy.
Bills got chatty.
And fear crowded out hope.
But deep down, I always knew I was a writer. 
Just like you know you're an entrepreneur, an author, a leader, a CEO, a photographer, or a million other things. 
I love being a writer. I love helping other people do more of what they love too. It's an awesome feeling to wake up every morning and do what I love. 
I want you to experience that too. 
Don't wait to pursue your dream. 
Don't put off what you love for another day. 
Let's make it happen together. 
 – Jon
Jon Acuff is the New York Times bestselling author of seven books, including his most recent, Soundtracks, The Surprising Solution To Overthinking.
Published in more than twenty languages, his work is both critically acclaimed and adored by readers. When he's not writing, Acuff can be found on a stage, as one of INC's Top 100 Leadership Speakers. He's spoken to hundreds of thousands of people at conferences, colleges and companies around the world including FedEx, Nissan, Microsoft, Lockheed Martin, Chick-fil-A, Nokia and Comedy Central. Known for his insights wrapped in humor, Acuff shared the stage with an American Icon when he opened up for Dolly Parton at the Ryman Auditorium.
For 25 years he's also helped some of the biggest brands tell their story, including The Home Depot, Bose, and Staples. His fresh perspective on life has given him the opportunity to write for Reader's Digest, Fast Company, The Harvard Business Review and Time Magazine.
He lives outside of Nashville, TN with his wife Jenny and two teenage daughters.
What is a challenge with Jon Acuff?
Jon Acuff has held challenges in a private Facebook group and YouTube for years. Welcome to the party! It's a fast, fun way to learn life-changing lessons. Plus, when you join, you get instant access to the most encouraging group of people on the planet. You'll be with thousands of other people from around the planet who are working on goals and cheering each other on.
Can I invite my friends?
Yes! You know someone who can benefit from Jon's challenges. Please have them sign up through the website acuff.me/challenge. We want to ensure we can onboard your friends and family properly!
What is the time commitment for this challenge?
Jon will teach live for an hour each day during the challenge. There will be lots of homework, activities and strategies in each lesson but you can decide how much time you want to invest.
What is the VIP Backstage Access?
For only $37 you will get:
3 BONUS one-hour group coaching sessions

Exclusive Q&A Access

Lifetime access to the challenge and backstage videos
You can purchase this amazing VIP Backstage Pass Experience upgrade at acuff.me/backstage.
What if I can't attend live?
No problem! Half of the participants will attend live, but the other half will watch the video replays we send each day. You'll have until Monday, January 16 to watch the replays or you can enjoy lifetime access to the videos as a member of the VIP Backstage Access.
What if I'm not on Facebook?
Although the private community is a fun part of the challenge, we know that lots of people don't use Facebook. That's why we'll send everyone in the challenge a video link of that day's lesson so that they can enjoy the content on their own completely outside of Facebook.