Take the BEYOND PERFECT challenge!
How to win the race against perfectionism.
Challenge starts 4/18/23 and it's 100% FREE…
Get 3 days of LIVE training and prizes and more from New York Times Bestselling author Jon Acuff!
Make peace with perfectionism and take away its power to hold your goals hostage.

"Jon's Challenges, Courses, and VIP Access earned a Gold Medal from me."
Beverly L, Challenge Member
"If you need help reaching a goal, Jon Acuff is the man to get you there."
Jennifer O, Challenge Member
"Jon and the community helped me start dreaming and planning again."
Cindy D, Challenge Member
Perfectionism is a poison that pretends to be a vitamin…
Nothing has the ability to get in the way of your goals like perfectionism does. If it doesn't prevent you from taking the first step of your goal, it will do everything in its power to keep you from reaching the finish line. The good news is that perfectionism can be beaten. You can even make friends with it, but only if you're willing to go beyond perfect.
Perfectionism will try to keep you idling at the starting line. You have the power to chart a course that will take you beyond perfect and over the finish line.
Day 1: Build the best base.
Day 2: Navigate the 4 Most Important Time Zones
Day 3: Deal with the Inner Critic and find the skills you need the most.
In the challenge, you'll also receive…
Z

Access to a private Facebook community with more than 20,500 people cheering you on

Z

Video replays of all the lessons

Z

The chance to win some DOPE prizes
Join the Beyond Perfect Challenge for FREE!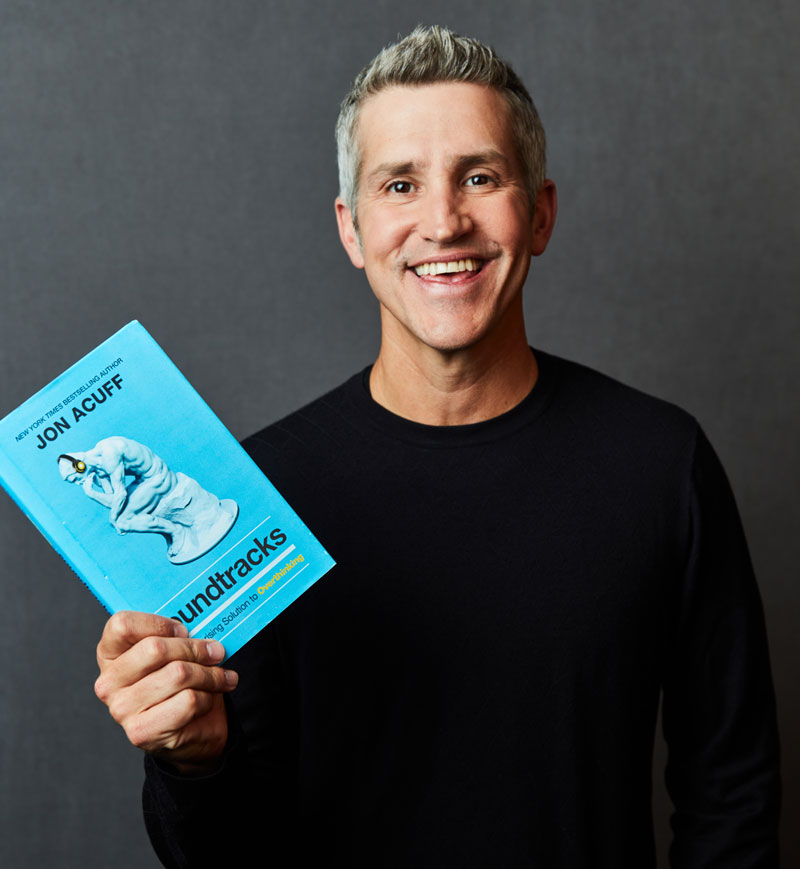 I'm Jon Acuff
Perfectionism used to get in the way of every goal I tried to achieve. It kept me from starting goals. It kept me from finishing them. It kept me from believing in myself and pursuing the dreams that actually mattered most to me. But not anymore. Learning to embrace imperfection led to some of my most meaningful accomplishments and I want you to know how you can go beyond perfect too.
Jon Acuff is the New York Times bestselling author of nine books, including his newest All It Takes Is A Goal.
Published in more than twenty languages, his work is both critically acclaimed and adored by readers. When he's not writing, Acuff can be found on a stage, as one of INC's Top 100 Leadership Speakers. He's spoken to hundreds of thousands of people at conferences, colleges and companies around the world including FedEx, Nissan, Microsoft, Lockheed Martin, Chick-fil-A, Nokia and Comedy Central. Known for his insights wrapped in humor, Acuff shared the stage with an American Icon when he opened up for Dolly Parton at the Ryman Auditorium.
For 25 years he's also helped some of the biggest brands tell their story, including The Home Depot, Bose, and Staples. His fresh perspective on life has given him the opportunity to write for Reader's Digest, Fast Company, The Harvard Business Review and Time Magazine.
He lives outside of Nashville, TN with his wife Jenny and two teenage daughters.
What is a challenge with Jon Acuff?
Jon Acuff has held challenges in a private Facebook group and YouTube for years. Welcome to the party! It's a fast, fun way to learn life-changing lessons. Plus, when you join, you get instant access to the most encouraging group of people on the planet. You'll be with thousands of other people from around the planet who are working on goals and cheering each other on.
Can I invite my friends?
Yes! You know someone who can benefit from Jon's challenges. Please have them sign up through the website acuff.me/challenge. We want to ensure we can onboard your friends and family properly!
What is the time commitment for this challenge?
Jon will teach live for an hour each day during the challenge. There will be strategies and suggested activities in each lesson, but you can decide how much time you want to invest. There is even optional homework if you want to take it to the next level!
What is the VIP Backstage Access?
For only $67 you will get:
3 BONUS one-hour group coaching sessions

Exclusive Q&A Access

Lifetime access to the challenge and backstage videos
You can purchase this amazing VIP Backstage Pass Experience upgrade at acuff.me/backstage.
What if I can't attend live?
No problem! Half of the participants will attend live, but the other half will watch the video replays we send each day. You'll have until Monday, April 24 to watch the replays or you can enjoy lifetime access to the videos as a member of the VIP Backstage Access.
What if I'm not on Facebook?
Although the private community is a fun part of the challenge, we know that lots of people don't use Facebook. That's why we'll send everyone in the challenge a video link of that day's lesson so that they can enjoy the content on their own completely outside of Facebook.